Well on the lookout for my next challenge I called onto the ABC blog and found that they are changing their challenges to fortnightly and also that the team are looking for
new DT members to join them
. This is what the info on their blog says:
"Important news -From now on the ABC Challenge will be fortnightly.
This week we are taking a break from the alphabet as we are holding a design team call.
Unfortunately both Dawn and Cathy (whom help set up the challenge blog with Vicky) have stood down due to family commitments. I would like to thank them for the work they have put into the blog and also the wonderful cards they have produced for us. I hope that they will continue to join in the challenges and know that a place is here for them should they wish to rejoin the design team at any point.
We are looking for new members for the team, if you would like to join please do the following:
1. Post about this on your blog and link it back.
2. Choose your 3 favourite cards and add them to the post.
Please show in these cards what you determine your style to be.
Please note this is a 6 month post to be extended if you and the team are happy with your work. You must be prepared to comment on at least a 1/3 of all entrants and have your card ready to be posted 24 hours before the challenge goes live. We have the topics prepared for the rest of the alphabet so it is ok to prepare in advance.
The winners will be announced in 2 weeks time, when the alphabet will continue with E."
Well my style can vary depending on mood and occassion etc. So these three cards show my style on the whole:
Card 1: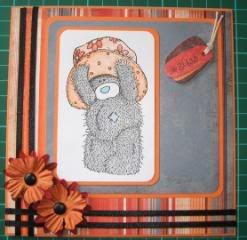 Card 2: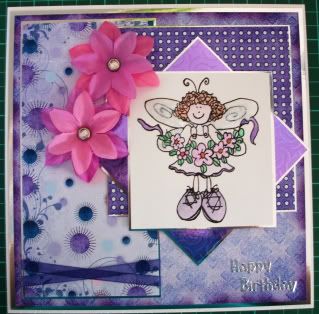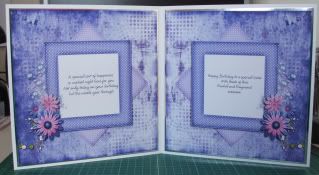 Card 3:
Right then, that's my three so hope they are a good selection to show what I can do.
Good luck to everyone else who is joining in too.
Rachel xx